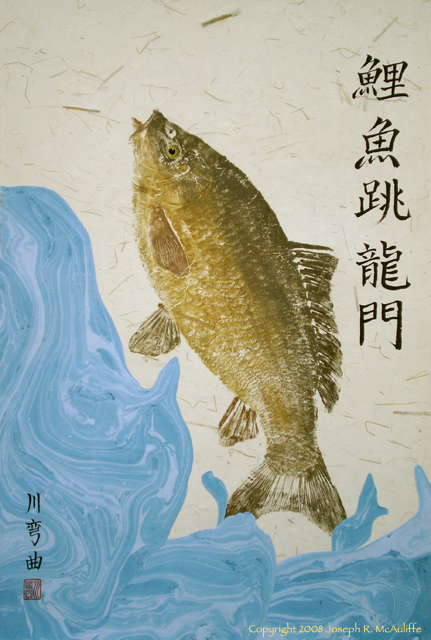 According to Chinese mythology, the Dragon's Gate is located at the top of a waterfall cascading from a legendary mountain. Many carp swim upstream against the river's strong current, but few are capable or brave enough for the final leap over the waterfall. If a carp successfully makes the jump, it is transformed into a powerful dragon. A Chinese dragon's large, conspicuous scales indicate its origin from a carp. The Chinese dragon has long been an auspicious symbol of great and benevolent, magical power.
The image of a carp jumping over Dragon's Gate is an old and enduring Chinese cultural symbol for courage, perseverance, and accomplishment. Historically, the dragon was the exclusive symbol of the emperor of China and the five-character expression, Liyu Tiao Long Men, was originally used as a metaphor for a person's success in passing very difficult imperial examinations, required for entry into imperial administrative service. To this day, when a student from a remote country village passes the rigorous national university examination in China, friends and family proudly refer to the "Liyu Tiao Long Men." More generally, the expression is used to communicate that if a person works hard and diligently, success will one day be achieved.
Size: 37 x 25 inches (2007)
Return to Gallery 5.