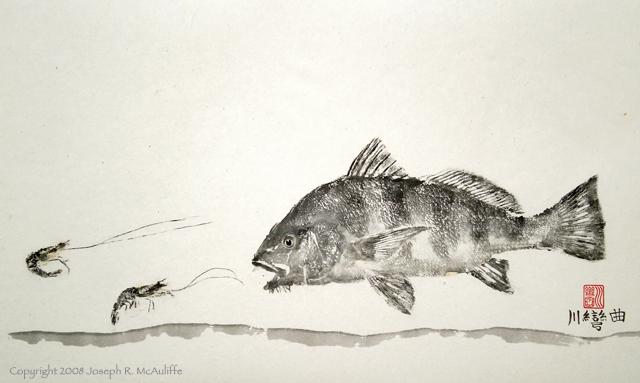 This fish provided one of the most memorable fishing experiences of my life. The black drum was caught in the Atlantic surf on Hunting Island, South Carolina with the sun setting behind me and a full moon rising before me over the ocean. I have many fond memories of Hunting Island stretching back over 25 years. I lived for a short time in South Carolina when I was in my early twenties. My parents visited me from Nebraska and the three of us spent a day on the island. My mother had never before seen an ocean. It was her first and last time because she died less than two years later. I will always remember her delight in finding sand dollars on the beach! Twenty-six years later, after landing the black drum, I fondly remembered my mother as I too walked along the beach and found a sand dollar.
Size: 32 x 20 inches (2003)

Return to Gallery 8.